Interviewfilm og casefilm
Vi kender alle denne type film fra nyhedsreportager og dokumentarer, hvor en person fortæller sin historie mens man ser relevante dækbilleder.
For at lave en interessant casefilm kræver det naturligvis en spændende historie, men måden den formidles på audiovisuelt spiller også en stor rolle.
Først må historien skæres ind til benet – og det hjælper vi med både under optagelserne, men også i klipperummet, hvor al unødig information trimmes. Her tilføjer vi også musik og grafik, der passer til
temaet.
Men før vi når til optagelser og klipperum, må man som organisation overveje, hvem af sine medarbejdere, der føler sig mest tryg foran et kamera og skal udtale sig i interviewet.
En god performance foran kameraet er afgørende for at skabe en god film, og vi kan hjælpe dig trygt igennem interviewet én bid af gangen.
På billedsiden laver vi en flot lyssætning til interviewet, og helst en opsætning med to eller flere kameraere, så vi i redigeringen kan klippe mellem close-up af ansigtet samt et brede skud, hvor man ser mere af rummet. At kunne klippe mellem flere vinkler hjælper med at fastholde seeren og lave
nedslag med close ups på særligt vigtige dele af interviewet.
Derudover er det i høj grad dækbillederne, som skaber historien. Vi skaber spændende og dynamiske dækbilleder med forskellige vinkler, kamerabevægelser samt dronevideo, så du får en topprofessionel interviewfilm.
SDU - Organisation og Ledelse
SDU - Strategisk Salg og Marketing
Vi formidler ikke bare dit budskab, men fortæller din historie.
Ønsker du et skarpt og visuelt fængende interview, der udstråler seriøsitet? Så skal du have fat i SpotOn Studios.
Vi tager gerne et uforpligtende sparringsmøde hvor vi afgrænser, hvordan en filmproduktion bedst kan tilføre værdi til din virksomhed.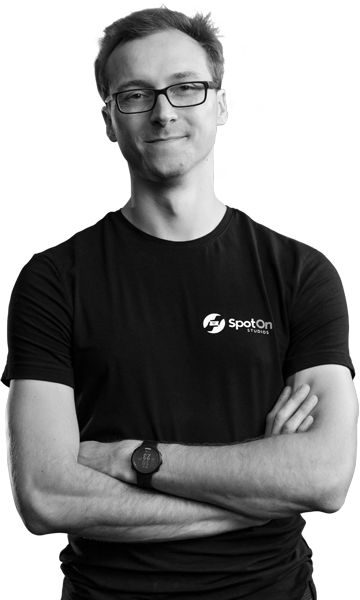 Nogle af vores 50+ glade kunder